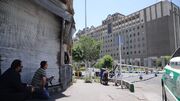 The 
2017 Tehran attacks
occurred from 10:50 AM to 2:14 PM on 7 June 2017 when seven
Islamic State
gunmen launched coordinated attacks on the Iranian Parliament building and the Mausoleum of
Ruhollah Khomeini
in the
Iranian
capital of
Tehran
, killing 17 people and injuring 43. The attackers (some of them identified as
Abu-Jahad
,
Serias Sadeqi
,
Ghayom Fatemi
,
Fereydoun
, and
Ramin Ahmadi
), had participated in IS atrocities in Raqqa and Mosul during the
Syrian Civil War
and
Iraqi Civil War
, respectively, having been forced to flee Iran after their commander
Abu Ayesheh
was killed by Iranian security forces. They returned home to carry out terrorist attacks inside Iran itself, and they chose to target symbolic locations, such as the Iranian Parliament (the center of government) and the Mausoleum of Ruhollah Khomeini (who led the 1979
Iranian Revolution
and became a
Shia
hero).
At 10:40 AM, three assailants entered the mausoleum through its western ingress, and they wounded three guards in a clash twenty minutes later. At 11:13 AM, a suicide bomber killed a gardener and wounded two others, and another suicide bomber was shot before detonating at 11:20 AM; at 11:25 AM, the female attacker was arrested, ending the mausoleum attack.
At the same time, four men dressed in women's clothing attacked the Iranian Parliament building. At 11:09 AM, the assailants used AK-47 assault rifles and handguns to attack the Parliament building, and one of the assailants detonated his suicide bomb on the fourth floor at 12:56 PM. At 1:00 PM, assailants fired on civilians on the street from the fourth floor windows, and the attackers clashed with security forces after parliament was adjourned at 1:12 PM. By 1:15 PM, the attackers had run out of assault rifle rounds and had switched to handguns, and lawmakers were evacuated at 1:42 PM. At 2:14 PM, the three remaining attackers were gunned down by the security forces, ending the attacks.
The attacks were the first major terrorist incidents in Iran to occur since the 2010 Zahedan bombings, and the Islamic State claimed responsibility for the attacks. The Islamic Revolutionary Guards Corps and the Iranian Ministry of Foreign Affairs blamed Saudi Arabia for orchestrating the attacks, as Crown Prince Mohammad bin Salman al-Saud had asked for Saudis to bring the terrorist fight to Iran after pushing the Iranian terrorists out of the Arabian Peninsula. The Iranian government later released extremely graphic photos of the attackers after they were killed, including one of a suicide bomber's severed head. They also revealed the first names of the attackers, but withheld their surnames to protect their families and their investigations. The United States government responded shamelessly to the attacks, with President Donald Trump blaming the attacks on "the evil" that Iran "promoted", and efforts by leading Democratic Party officials to delay sanctions in the aftermath of the attacks were ignored.
Ad blocker interference detected!
Wikia is a free-to-use site that makes money from advertising. We have a modified experience for viewers using ad blockers

Wikia is not accessible if you've made further modifications. Remove the custom ad blocker rule(s) and the page will load as expected.