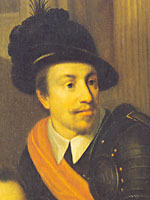 Adolf of Nassau
(11 July 1540-23 May 1568) was a
Count of Nassau
and a younger brother of
William the Silent
. Adolf was one of the original leaders of the
Dutch Revolt
, and he was killed at the
Battle of Heiligerlee
in 1568.
Biography
Adolf of Nassau was the sixth child of William I, Count of Nassau-Dillenburg and Juliana of Stolberg, and he was the second youngest brother of William the Silent and a brother of Louis of Nassau and Henry of Nassau-Dillenburg. Adolf fought against the Ottomans at Szigetvar in 1566 while in Habsburg service, only to take part in his brother William's uprising against Habsburg Spain in 1567. Louis and Adolf fought against the Spanish at Heiligerlee in May 1568, and Adolf was killed while ambushing Spanish troops at a monastery.
Ad blocker interference detected!
Wikia is a free-to-use site that makes money from advertising. We have a modified experience for viewers using ad blockers

Wikia is not accessible if you've made further modifications. Remove the custom ad blocker rule(s) and the page will load as expected.