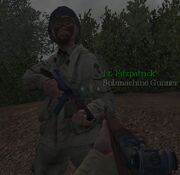 Aidan N. Fitzpatrick
(1919-1994) was a
US Army
lieutenant who served in the
US 506th Parachute Infantry Regiment
during
World War II
.
Biography
Aidan N. Fitzpatrick was born in Boston, Massachusetts in 1919 to a family of Irish descent. Fitzpatrick worked on the waterfront until World War II broke out, upon which he enlisted in the US Army and volunteered for the airborne infantry. Fitzpatrick was assigned to the US 506th Infantry Regiment and trained at Camp Toccoa, Georgia, and he took part in his first combat jump over Normandy in June 1944. Fitzpatrick fought in the Brecourt Manor Assault of 6 June 1944, commanding a fireteam of paratroopers.
Ad blocker interference detected!
Wikia is a free-to-use site that makes money from advertising. We have a modified experience for viewers using ad blockers

Wikia is not accessible if you've made further modifications. Remove the custom ad blocker rule(s) and the page will load as expected.