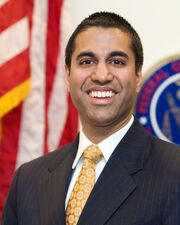 Ajit Varadaraj Pai
(10 January 1973-) was Chairman of the Federal Communications Commission of the
United States
from 23 January 2017, succeeding
Tom Wheeler
.
Biography
Ajit Varadaraj Pai was born in Buffalo, New York on 10 January 1973 to a family of Indian Konkanis. He grew up in rural Parsons, Kansas, where his parents worked as doctors at the local hospital. Pai went to school at Harvard and Chicago, becoming a lawyer for Verizon after earning a law degree. In 2003, he left Verizon to work for the Department of Justice and the Federal Communications Commission; President Barack Obama nominated Pai as a Republican Party member of the FCC at the recommendation of Mitch McConnell. In January 2017, Donald Trump designated Pai as the new leader of the FCC, and he was supposed to serve a five-year term. He opposed "net neutrality", claiming that its days were numbered and that he wanted to "take a weed whacker" to the net neutrality regulations.
Ad blocker interference detected!
Wikia is a free-to-use site that makes money from advertising. We have a modified experience for viewers using ad blockers

Wikia is not accessible if you've made further modifications. Remove the custom ad blocker rule(s) and the page will load as expected.