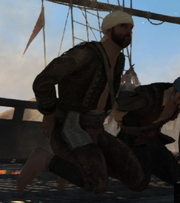 Alan Pendarves
was an 18th-century privateer in the service of
Spain
. Pendarves was the captain of the brig 
Hades
, and he hunted down
Caribbean
pirates
during the
Golden Age of Piracy
.
Biography
Alan Pendarves was born in Penzance, Cornwall, England to a seafaring family, and he decided to serve in the Royal Navy during the War of the Spanish Succession (1701-1713). Pendarves fought in the Caribbean, and he became unemployed in the aftermath of the war. Pendarves decided to become a pirate, plundering British Royal Navy and Spanish Navy ships across the Caribbean Sea. In 1715, however, he decided to accept a Spanish pardon and become a pirate hunter, hunting down his former allies in exchange for easy money. Pendarves captained the brig Hades, and he was sent to take down Edward Kenway in 1716. However, his ship was incapacitated by Kenway's Jackdaw off Cabo de Cruz, Cuba in March 1716, and Kenway captured the ship after a battle on deck. Pendarves was forced to surrender, and he was held in the hull of the Jackdaw with the other prisoners.
Ad blocker interference detected!
Wikia is a free-to-use site that makes money from advertising. We have a modified experience for viewers using ad blockers

Wikia is not accessible if you've made further modifications. Remove the custom ad blocker rule(s) and the page will load as expected.