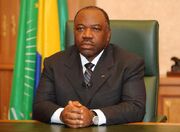 Ali Bongo Ondimba
(9 February 1959-) was President of
Gabon
from 16 October 2009, succeeding
Rose Francine Rogombe
. Ondimba was the son of
Omar Bongo
, dictator from 1967 to 2009, and he took over the country after his father's death.
Biography
Alain Bernard Bongo was born in Brazzaville, French Equatorial Africa (now in the Republic of the Congo) on 9 February 1959, the son of Omar Bongo. Alain changed his name to "Ali Bongo Ondimba" after his family converted to Islam in 1973, and he was groomed as his father's heir. Bongo was elected to the political bureau of the conservative Gabonese Democratic Party in 1986, and he was elected to the National Assembly in 1990. In 1999, he became Minister of National Defense, and he became Vice-President of the Democratic Party in 2008. When his father died in 2009, he was elected president, succeedng acting president Rose Francine Rogombe. Bongo was also accused of dictatorial rule by opponents, following in his father's footsteps.
Ad blocker interference detected!
Wikia is a free-to-use site that makes money from advertising. We have a modified experience for viewers using ad blockers

Wikia is not accessible if you've made further modifications. Remove the custom ad blocker rule(s) and the page will load as expected.