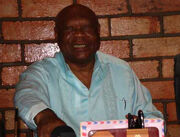 Ambroise Noumazalaye
(23 September 1933-17 November 2007) was Prime Minister of the
Republic of the Congo
from 1966 to 1968, succeeding
Pascal Lissouba
and preceding
Alfred Raoul
.
Biography
Ambroise Noumazalaye was born in Brazzaville, French Equatorial Africa on 23 September 1933, and he became involved with the socialist National Movement of the Revolution party during the 1960s. In 1964, he was named the party's Secretary-General, and he served as Minister of Planning in the cabinet of Prime Minister Pascal Lissouba. From 1966 to 1968, he served as Prime Minister, and he joined the ten-member political bureau of the Congolese Party of Labor in 1970. In 1972, he was sentenced to life imprisonment for planning a coup against Marien Ngouabi's regime, but he would be elected to the party's Central Committee in 1984 under Denis Sassou Nguesso. He was the brains behind the PCT-UPADS alliance in 1992, and he supported Sassou Nguesso's rule during the 1990s. In 2002, he became President of the Senate as well as the Senator from Likouala, and he died five years later.
Ad blocker interference detected!
Wikia is a free-to-use site that makes money from advertising. We have a modified experience for viewers using ad blockers

Wikia is not accessible if you've made further modifications. Remove the custom ad blocker rule(s) and the page will load as expected.