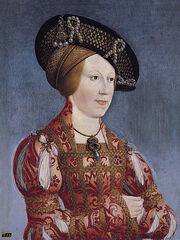 Anne of Bohemia and Hungary
(23 July 1503-27 January 1547) was Queen Consort of
Bohemia
and
Hungary
from 17 December 1526 to 27 January 1547. Anne was the daughter of
Vladislaus II of Hungary
and
Anne of Foix-Candale
, the sister of
Louis II of Hungary
, the wife of Emperor
Ferdinand I of Germany
, and the mother of
Maximilian II of Germany
and fourteen other children.
Biography
Anne of Bohemia and Hungary was born in Budapest, Hungary on 23 July 1503, the elder child of Vladislaus II of Hungary and Anne of Foix-Candale. Anne belonged to the Polish House of Jagiellon, as did her brother, King Louis II of Hungary. Her mother died when she was three, and her father died in 1516; they were raised by Emperor Maximilian I of Germany, and she was arranged to marry Maximilian's grandson Archduke Ferdinand of Austria, the child of Philip I of Castile and Joanna the Mad. On 26 May 1521, she married Ferdinand in Linz, Austria, and Ferdinand was made Louis II's heir in the case of his death without any children. After Louis was killed in battle with the Ottoman Empire at the Battle of Mohacs in 1526, Ferdinand became the new King of Bohemia and Hungary, with Anne serving as his consort. Anne bore Ferdinand fourteen children, and she died just three days after giving birth to her last child, Joanna of Austria, Grand Duchess of Tuscany, in 1547. She did not survive to become Empress of the Holy Roman Empire, with her husband taking on the title of Holy Roman Emperor in 1558.
Ad blocker interference detected!
Wikia is a free-to-use site that makes money from advertising. We have a modified experience for viewers using ad blockers

Wikia is not accessible if you've made further modifications. Remove the custom ad blocker rule(s) and the page will load as expected.