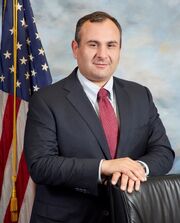 Anthony P. Fiore
was a member of the Township Committee of Middletown,
New Jersey
from 2009. A graduate of Rutgers University, Fiore served as mayor in 2011 and 2012, deputy mayor in 2010 and 2016, and on the Middletown Planning Board from 2006 to 2009. In 2012, he raised $1,000,000 for Middletown residents to pay for repairs of damages caused by Hurricane Sandy.
Ad blocker interference detected!
Wikia is a free-to-use site that makes money from advertising. We have a modified experience for viewers using ad blockers

Wikia is not accessible if you've made further modifications. Remove the custom ad blocker rule(s) and the page will load as expected.