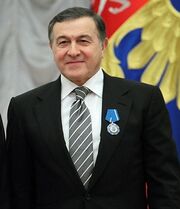 Aras Iskenderovich Agalarov
(8 November 1955-) was an
Azerbaijani
-
Russian
oligarch. Agalarov was immensely wealthy and powerful, and he served as President
Vladimir Putin
's liaison with
American
businessman
Donald Trump
, assisting the Russian government with influencing the
2016 presidential election
.
Biography
Aras Iskenderovich Agalarov was born in Baku, Azerbaijan SSR, Soviet Union on 8 November 1955, and he was educated at the Azerbaijan Polytechnical Institute. He became a member of the Communist Party of Azerbaijan and the Baku City Committee, and he moved to Moscow in 1998 after the fall of the USSR and founded the Crocus International trade fair company. He opened his own chain of malls, and he built the Crocus City Mall, the largest mall in Moscow. By 2017, his net worth was $1.91 billion, and his company built restaurants, a Moscow superhighway, two stadiums for the 2018 FIFA World Cup, and a new campus for the Far Eastern Federal University in Vladivostok. 
The powerful Agalarov was not only friends with the powerful Russian president Vladimir Putin, but also served as Putin's liaison with American businessman Donald Trump. He paid Trump $20,000,000 to hold the 2013 Miss Universe pageant at his Crocus City Hall concert hall, and they would later discuss the construction of a Trump Tower in Russia. On 9 June 2016, Agalarov's popstar son Emin helped to arrange a meeting between members of Trump's campaign and the Russian government lawyer Natalia Veselnitskaya, and she helped them with finding "dirt" on Hillary Clinton's presidential campaign.
Ad blocker interference detected!
Wikia is a free-to-use site that makes money from advertising. We have a modified experience for viewers using ad blockers

Wikia is not accessible if you've made further modifications. Remove the custom ad blocker rule(s) and the page will load as expected.