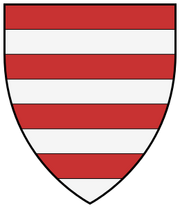 The 
Arpad dynasty
was the ruling dynasty of
Hungary
from the 9th century to 1301. The family was named for
Arpad
, the leader of the
Magyars
 during the early 10th century, and it ruled over Hungary as it transitioned from a principality to a kingdom. At times, the family also ruled over
Dalmatia
,
Croatia
,
Cumania
,
Slavonia
,
Bulgaria
,
Lodomeria
, and
Styria
, but it went extinct with the death of King
Andrew III of Hungary
in 1301. After
Stephen V of Hungary
's great-great-grandson
Charles I of Hungary
became king, all subsequent kings of Hungary (except for
Matthias Corvinus
) were either matrilineal or cognate descendants of the Arpad dynasty.
Ad blocker interference detected!
Wikia is a free-to-use site that makes money from advertising. We have a modified experience for viewers using ad blockers

Wikia is not accessible if you've made further modifications. Remove the custom ad blocker rule(s) and the page will load as expected.