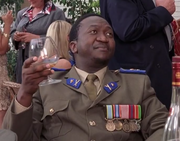 Augustin Bizimungu
(28 August 1952-) was a Major-General in the
Rwandan Armed Forces
(FAR) during the
Rwandan Civil War
.
Biography
Augustin Bizimungu was born in Byumba Prefecture, Rwanda on 28 August 1952 to a Hutu family. Bizimungu was a Lieutenant-Colonel in the Rwandan Armed Forces by 1994, and he rose to the rank of Major-General and permanent chief of the army after the death of Army Chief-of-Staff Deogratias Nsabimana in a plane crash in 1994. Bizimungu was responsible for training the soldiers and militiamen who took part in the Rwandan Genocide, although he denied having any role in any atrocities. In 2002, he was arrested in Angola and was sentenced to 30 years in prison for his role in the genocide in 2011.
Ad blocker interference detected!
Wikia is a free-to-use site that makes money from advertising. We have a modified experience for viewers using ad blockers

Wikia is not accessible if you've made further modifications. Remove the custom ad blocker rule(s) and the page will load as expected.