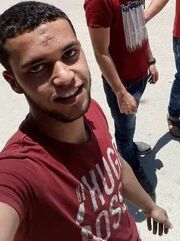 Bara Ibrahim Saleh Ata
(1999-17 June 2017) was a
PFLP
member who carried out a stabbing attack near Damascus Gate in
Jerusalem
,
Israel
in 2017 alongside
Osama Ahmad Mustafa Ata
and
Adel Hasan Ahmad Ankoush
. The two Atas were from Deir Abu Mash'al, and Bara had been imprisoned for several months in 2015 for throwing rocks and molotovs at the Halamish settlement. On 17 June 2017, the three PFLP members were shot dead after killing an Israeli policewoman.
Ad blocker interference detected!
Wikia is a free-to-use site that makes money from advertising. We have a modified experience for viewers using ad blockers

Wikia is not accessible if you've made further modifications. Remove the custom ad blocker rule(s) and the page will load as expected.