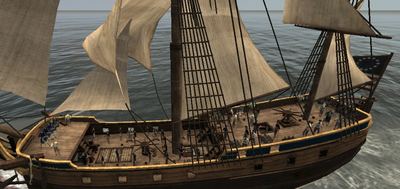 The 
Battle of Shetley Island 
took place on June 2, 1776, off
Shetley Island
,
Virginia
, during the
Revolutionary War
. The battle was fought between the
Continental Navy
's
USS Maine
, captained by
Henry Ainsley
, and the
Royal Navy
's
HMS Stanley
, captained by
Giancarlo Brownfield
. 
Background
Giancarlo Brownfield, a captain in the Royal Navy, controlled the British-American trade routes between Baltimore and London, across the Atlantic Ocean, with his ship HMS Stanley and her escorts HMS King George (1761), HMS Tarry, and HMS Virginia (1775), blocking off all foreign attackers and Pirates. As a bulwark against piracy, he was a threat against all rival countries and against buccaneers. His fleet was diverted to Virginia with the start of the Revolutionary War, and they were docked at Yorktown, awaiting further orders. In the meantime, the Continental Navy preyed on other British ships, so when Captain Henry Ainsley's USS Maine cruised past the port, Brownfield set out to stop him.
Battle
It took an hour for the fleets to actually meet, and Ainsley ordered for his troops to switch to chain shot immediately, so that they could "cut the head clean off Goliath". However, they faced four "Goliath"s, so they needed to choose a good target. After one shot was fired off of HMS Virginia, the USS Maine retreated to Shetley Island, outside of the harbor, so that the British fleet would have to choose an alley and find a US ship waiting. Brownfield sent HMS Stanley around the left, while King George headed around the right flank. The US had an advantage when King George hit a sandbar and ran aground, and they attacked HMS Stanley, holing the sides until the whole of the hull was dotted. The US warship retreated afterwards, which left the British baffled and embarrassed.
Aftermath
Although not much of a battle, it displayed the Continental Navy's fledgling skills as Ainsley turned into a fine officer. The British ship HMS Stanley was merely damaged, but was reportedly so close to sinking that Captain Theodoris Moran refused to steer it back to Newport, opting for one of the ship's few life boats. It is believed that 77 British sailors were killed, dwarfing American losses of 13. 
Ad blocker interference detected!
Wikia is a free-to-use site that makes money from advertising. We have a modified experience for viewers using ad blockers

Wikia is not accessible if you've made further modifications. Remove the custom ad blocker rule(s) and the page will load as expected.