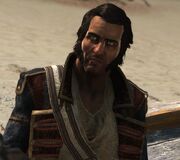 Benjamin Hornigold
(c. 1685-September 1719) was a famous
English
pirate
who captained the sloop
Benjamin 
in the
Caribbean
. From 1715 to 1718 he was one of the pirate governors of the "
Nassau Republic
", but after the blockade by
Woodes Rogers
he accepted King
George
's pardon and became a pirate hunter. Hornigold died when
Benjamin
was shipwrecked on
Santanillas
in 1719.
Biography
Turn to piracy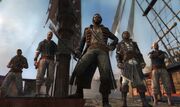 Hornigold was born in Norfolk,
England
, and worked as a sailor on merchant ships at nearby Great Yarmouth or possibly King's Lynn. In the winter of 1713 he began a career as a pirate, sailing thirty-gun sloop "
Ranger
" off Nassau and the
Bahamas
and preying on
Spanish
merchant ships during the
War of the Spanish Succession
. By 1717, his sloop was the heaviest-armed in the
Caribbean
, and he plundered merchant shipping with impunity to become one of the greatest sailors of the
Golden Age of Piracy
.
Pirating activities
Benjamin Hornigold was famous not only as a feared pirate, but also as the mentor of Edward Thatch, his second-in-command who would rise to become the captain of "Queen Anne's Revenge" and be the most feared pirate of all time. Thatch and Hornigold were just as much friends as they were enemies; when the pirate base at Nassau (which Hornigold led in part) was blockaded in 1718, it was Hornigold who wanted to make peace with the British and accept their pardon. Thatch was away in North Carolina, hoping to retire from pirating, and Hornigold was one of the few captains who accepted the pardon; Edward Kenway's "Jackdaw" and Charles Vane and Jack Rackham's "Ranger" escaped the port by using a fire ship attack.
In the aftermath of accepting the pardon, by the terms of it Hornigold returned to England penniless but a free man. He decided to go into a career of a pirate hunter alongside captains Josiah Burgess and John Cockram, and he was inducted into the Templar Order under Governor Laureano Torres y Ayala of Cuba and Governor Woodes Rogers of the Bahamas. Hornigold attempted to hunt down Captain Kenway and his partner, the feared "Black Bart" Bartholomew Roberts. In September 1719, he engaged the "Jackdaw" in a final battle.
Death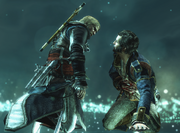 Hornigold's ship
Benjamin
 was detected while attempting to sneak up on the "Jackdaw", and he decided to flee through
Espinazo del Diablo
("Devil's Backbone"), a collection of cays that impeded fast traveling. Eventually, his ship beached on
Santanillas
, a British-held island, and Hornigold was placed under the protection of His Majesty's troops. Kenway infiltrated the island and stabbed Hornigold in the chest with his hidden blades, killing him.
Ad blocker interference detected!
Wikia is a free-to-use site that makes money from advertising. We have a modified experience for viewers using ad blockers

Wikia is not accessible if you've made further modifications. Remove the custom ad blocker rule(s) and the page will load as expected.