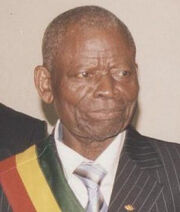 Bernard Kolelas
(12 June 1933-13 November 2009) was a
Congolese
politician who was President of the
Congolese Movement for Democracy and Integral Development
, a
liberal
party in the Congo.
Biography
Bernard Kolelas was born in the Pool Region of the Republic of the Congo on 12 June 1933, and he became involved in politics under President Fulbert Youlou. Kolelas served in the Ministry of Foreign Affairs under Youlou, and he was fired and imprisoned by Alphonse Massamba-Debat after Youlou's 1963 overthrow. In 1964, he went into exile in the Democratic Republic of the Congo, and he led a failed 1969 coup against Congolese Party of Labor leader Marien Ngouabi. Kolelas became a renowned opponent of the communist dictatorship in the People's Republic of the Congo, and he later founded the Congolese Movement for Democracy and Integral Development party. From 1993 to 1994, Kolelas' Ninja militia fought against Pascal Lissouba's government, and Kolelas was elected Mayor of Brazzaville in 1994. In 1997, he supported Lissouba against Denis Sassou Nguesso, the former dictator, but Nguesso won the war and became the new dictator. Kolela's rebels failed to take Brazzaville in 1998, and he was sentenced to death in absentia in 2000. However, he was allowed to return to the Congo and was granted amnesty, and he died of Alzheimer's disease in Paris, France in 2009, at the age of 76. 
Ad blocker interference detected!
Wikia is a free-to-use site that makes money from advertising. We have a modified experience for viewers using ad blockers

Wikia is not accessible if you've made further modifications. Remove the custom ad blocker rule(s) and the page will load as expected.