Bertrand du Guesclin 
(c. 1320-13 July 1380) was a Breton knight and Constable of France.
Biography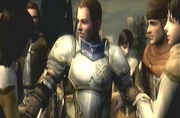 Born into an obscure Breton family, Du Guesclin made a famous military career through sheer fighting skill. He was blooded in the succession war that tore Brittany apart in the 1340s and 1350s, France and England supporting opposite claimants to the dukedom. Impressed with his resistance to the English in the
siege of Rennes
, Dauphin Charles, later Charles V, took Du Guesclin into royal service. His battle record was mixed. He was victorious against the
Captal de Buch
at Cocherel, but defeated by Sir
John Chandos
at Auray and the Black Prince at Najera. In both defeats Du Guesclin was captured, but on both occasions thought worthy of a royal ransom.
Tough and ugly, once described as a "hog in armor", Du Guesclin was appointed constable of France in 1370. He immediately justified his position by routing the English in a small-scale but significant engagement at Pontvallain. From then onward, he dominated the English using Fabian tactics - avoiding battle, disrupting supplies, and harassing the enemy in a war of attrition. His professionalism turned the tide of war back in France's favor, justly earning him burial in the royal abbey of St. Denis.