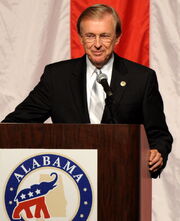 Bill Armistead
(29 May 1944-) was Chairman of the
Alabama Republican Party
from 2011 to 2015 and an
Alabama
state senator from 1995 to 2003.
Biography
Bill Armistead was born in Campbell, Alabama on 29 May 1944, and he attended Samford University, graduating with a bachelor's degree in business administration in 1966. He joined the college wing of the Republican Party while at Samford, and he worked for trucking companies for 20 years before becoming a staffer for Governor H. Guy Hunt. From 1988 to 1993, he was his chief economic adviser, and he served in the State Senate from 1995 to 2003, when he resigned in order to make a failed run for Lieutenant-Governor, losing to Democratic Party candidate Lucy Baxley. From 2011 to 2015, he served as Chairman of the Alabama Republican Party, and Terry Lathan succeeded him.
Ad blocker interference detected!
Wikia is a free-to-use site that makes money from advertising. We have a modified experience for viewers using ad blockers

Wikia is not accessible if you've made further modifications. Remove the custom ad blocker rule(s) and the page will load as expected.