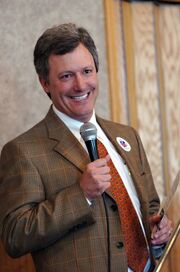 William A. "Bill" Gwatney
(26 August 1959-13 August 2008) was the Chair of the
Democratic Party of Arkansas
from 2007 to 13 August 2008, succeeding
Jason Willett
and preceding
David Pryor
.
Biography
Bill Gwatney was a University of Arkansas at Little Rock alumnus, and he served in the Arkansas State Senate from 1993 to 13 January 2003 as the representative from the 19th district, serving as a Democratic Party member. In 2006, he was the financial chair for Mike Beebe's run for governor, having owned three car dealerships in Pulaski. In 2007, he became the Chair of the Democratic Party of Arkansas, and he was also chosen as a superdelegate for the 2008 Democratic National Convention. However, on 13 August 2008, former Target employee Timothy Dale Johnson entered Gwatney's headquarters in Little Rock and shot Gwatney three times before being killed in a police chase. Gwatney died just hours later, and former governor and senator David Pryor became interim chair.
Ad blocker interference detected!
Wikia is a free-to-use site that makes money from advertising. We have a modified experience for viewers using ad blockers

Wikia is not accessible if you've made further modifications. Remove the custom ad blocker rule(s) and the page will load as expected.