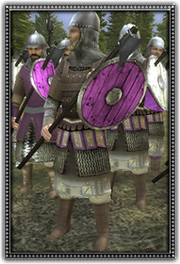 Bjornolf Thorgeirson 
(died 1079) was a Viking king who ruled extensive lands on the Scottish Isles. 
Biography
Based on the Isle of Islay, Bjornolf Thorgeirson led several Viking raids on Scotland and England. He sacked Dunstaffnage Castle in 1068 and also raided Edinburgh, while also attacking fishing boats off Inverness. Thorgeirson was mainly concerned with the survival of his banditti, and sometimes worked as a mercenary; he defeated an English army at the Battle of Stoneburgh in 1073 on the behalf of Scotland. He raided the shore of Devon at some times, but did not attack England too often, as he was preoccupied in the hunt for a land base. He attacked Dublin in 1078, and used it as his capital. However, Fiore McGalleagh, a Dubliner, killed him with an ax in the streets during a revolt, and the city returned to Irish hands.
Ad blocker interference detected!
Wikia is a free-to-use site that makes money from advertising. We have a modified experience for viewers using ad blockers

Wikia is not accessible if you've made further modifications. Remove the custom ad blocker rule(s) and the page will load as expected.