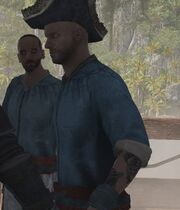 Bradley Smithe 
(1686-) was an
English
pirate
who was active during the
Golden Age of Piracy
.
Biography
Bradley Smithe was born in Exmouth, Devon, England in 1686, and he moved to the Caribbean to seek fortune and glory as a privateer. Smithe fought in the War of the Spanish Succession, preying on Spanish Navy vessels for Great Britain as a privateer, but he was unemployed with the war's end in 1713. Smithe turned to piracy, and he became a crew member aboard Edward Kenway's Jackdaw. In April 1717, Smithe was given command of Santa Isabel, a captured Spanish galleon, and he commanded it as a part of Kenway's fleet. 
Ad blocker interference detected!
Wikia is a free-to-use site that makes money from advertising. We have a modified experience for viewers using ad blockers

Wikia is not accessible if you've made further modifications. Remove the custom ad blocker rule(s) and the page will load as expected.