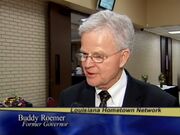 Charles Elson "Buddy" Roemer III
(4 October 1943-) was Governor of
Louisiana
(
D
) from 14 March 1988 to 13 January 1992, interrupting
Edwin Edwards
' two terms. Roemer had previously served in the
US House of Representatives
from the 4th district from 3 January 1981 to 14 March 1988, succeeding
Buddy Leach
and preceding
Jim McCrery
.
Biography
Charles Elson Roemer III was born in Shreveport, Louisiana on 4 October 1943, the son of Administration Commissioner Charles E. Roemer II. He was raised on the Scopena plantation near Bossier City in Louisiana's northwestern Bossier Parish, and he received his MBA from Harvard Law School in 1967. Roemer worked for his father's computer business and founded two banks, and he was elected to the US House of Representatives in 1981 as a member of the Democratic Party. Roemer supported Ronald Reagan's policy initiatives, and he ran for Governor of Louisiana in 1988; Edwin Edwards' administration was known for its lack of leadership in solving monetary problems, and Roemer was elected while promising to "scrub the budget". Roemer sought to eliminate the $1.3 billion deficit in the budget, and he vetoed a law that would have outlawed abortion in the case of rape or incest. Roemer also legalized the state lottery and riverboat gambling, and he legalized video poker at bars and truck stops.
In 1991, Roemer switched his party affiliation to the Republican Party at the urging of White House Chief of Staff John H. Sununu, and he lost the gubernatorial election's Republican primaries to Ku Klux Klan Grand Wizard David Duke. Roemer's alienation of special interests led to his defeat, and he returned to banking and investing after failed comebacks during the 1990s, but he attempted to seek Reform Party USA's presidential nomination in 2012 before leaving the party in 2013 to rejoin the Republican Party.
Ad blocker interference detected!
Wikia is a free-to-use site that makes money from advertising. We have a modified experience for viewers using ad blockers

Wikia is not accessible if you've made further modifications. Remove the custom ad blocker rule(s) and the page will load as expected.