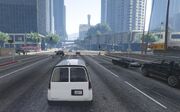 Bunker Hill, Los Angeles
is a neighborhood of
Los Angeles
,
California
that is located near the city center. Bunker Hill was originally a residential suburb, but increased urban growth following
World War I
led to the area becoming the most crowded and urban neighborhood of Los Angeles. When the Pasadena Freeway was built by
World War II
, many residents left Bunker Hill, which became a home of impoverished pensioners. In 1955, city commissioners began a slum clearance project in Bunker Hill, and they sought to create a modern and sophisticated image by creating large skyscrapers during the 1980s. Modern plazas and buildings replaced old slum areas, giving Bunker Hill its distinctive appearance.