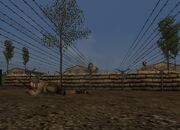 Camp Toccoa
was a
US Army
paratrooper training camp west of Toccoa,
Georgia
that was in use from 1941 to 1946 during
World War II
. The camp was used to train units such as the
US 506th Infantry Regiment
, which belonged to the
US 101st Airborne Division
, and a prominent local landmark was Currahee Mountain, with paratroopers being forced to run "three miles up, three miles down". The camp was deactivated in 1946 after the war's end.
Gallery
Ad blocker interference detected!
Wikia is a free-to-use site that makes money from advertising. We have a modified experience for viewers using ad blockers

Wikia is not accessible if you've made further modifications. Remove the custom ad blocker rule(s) and the page will load as expected.