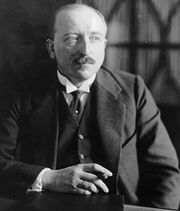 Carl von Schubert
(15 October 1882-1 June 1947) was Secretary of State of the
Weimar Republic
from 1924 to 1930.
Biography
Carl Schubert was born in Berlin, German Empire on 15 October 1882, the son of an army officer. He entered the foreign service in 1906 and served as a legate to Bern, Switzerland, and he enabled Vladimir Lenin to return to Russia from his Swiss exile in 1917. Schubert headed the Department of England and America at the Foreign Office of the Weimar Republic during the Interwar period, and Karl Radek called him a "vulgar anglophile". From 1924 to 1930, he served as Secretary of State, and he retired in 1932. He died in 1947.
Ad blocker interference detected!
Wikia is a free-to-use site that makes money from advertising. We have a modified experience for viewers using ad blockers

Wikia is not accessible if you've made further modifications. Remove the custom ad blocker rule(s) and the page will load as expected.