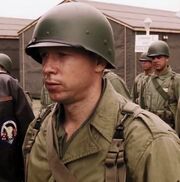 Clifford Carwood Lipton
(30 January 1920-16 December 2001) was a
US Army
First Lieutenant who served in
Easy Company
, 2nd Battalion,
US 506th Infantry Regiment
during
World War II
.
Biography
Clifford Carwood Lipton was born in Huntington,
West Virginia
on 30 January 1920, and he became the man of the family after his father was killed and his mother paralyzed in the same car crash when he was ten. He spent one year at Marshall University before home financial troubles forced him to work in war production. On 15 August 1942, he decided to join the
US Army
paratroopers, becoming
Easy Company
First Sergeant. Lipton was wounded by shrapnel during
Operation Overlord
in 1944, but a medic patched him up, and he continued fighting. He was awarded the Bronze Star for assisting in the destruction of four
German
howitzers, and he was one of the very few men in Easy Company who accepted replacements as "true soldiers".
Lipton fought in Operation Market Garden and assisted in the liberation of Eindhoven in the Netherlands, and he oversaw Operation Pegasus. He was promoted to First Lieutenant after the assault on the town of Foy during the Battle of the Bulge, and he discovered the horrors of the Holocaust at the Kaufering concentration camp and had conversations and meals with Ferdinand Porsche at the Berchtesgaden in Austria. He went to school after the war and became chief operator of the Owens Illinois Inc. glass products and plastics packaging company, and he worked with glass companies in both the USA and the United Kingdom for years. He died in Southern Pines, North Carolina in 2001 at the age of 81.
Ad blocker interference detected!
Wikia is a free-to-use site that makes money from advertising. We have a modified experience for viewers using ad blockers

Wikia is not accessible if you've made further modifications. Remove the custom ad blocker rule(s) and the page will load as expected.