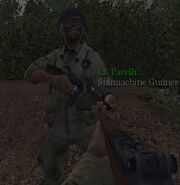 Charles Romano Pacelli
(1919-2007) was a
US Army
lieutenant who served in the
US 506th Infantry Regiment
during
World War II
.
Biography
Charles Romano Pacelli was born in Chicago, Illinois in 1919 to a family of Italian descent, and he worked in a bottle factory before enlisting in the US Army in 1942. Pacelli volunteered for the US 506th Infantry Regiment, training at Camp Toccoa, Georgia before taking part in the Operation Overlord invasion of France in June 1944. Pacelli fought in the Brecourt Manor Assault, leading one of the fireteams during the skirmish with the German forces.
Ad blocker interference detected!
Wikia is a free-to-use site that makes money from advertising. We have a modified experience for viewers using ad blockers

Wikia is not accessible if you've made further modifications. Remove the custom ad blocker rule(s) and the page will load as expected.