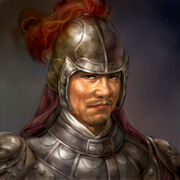 Chen Shi 
(?-?) was a
Shu
officer. He was taken prisoner at Mt. Ding Jun, but was traded for
Xiahou Shang
. On the third northern campaign, he failed in his pursuit of the Wei Army and was executed. It is said that he was the father o fhte author of "Records of the Three Kingdoms".
Ad blocker interference detected!
Wikia is a free-to-use site that makes money from advertising. We have a modified experience for viewers using ad blockers

Wikia is not accessible if you've made further modifications. Remove the custom ad blocker rule(s) and the page will load as expected.