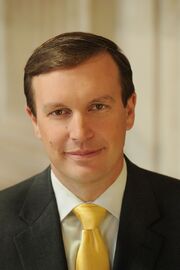 Christopher Scott "Chris" Murphy
(3 August 1973-) was a
US
Senator from
Connecticut
(
D
) from 3 January 2013, succeeding
Joe Lieberman
. He previously served as a member of the
US House of Representatives
from Connecticut's 5th district from 3 January 2007 to 3 January 2013, succeeding
Nancy Johnson
and preceding
Elizabeth Esty
.
Biography
Christopher Scott Murphy was born in White Plains, New York on 3 August 1973, and he attended Williams College before receiving his juris doctor from the University of Connecticut School of Law. He worked for Connecticut State Senate Majority Leader George Jepsen before being elected to the State House of Representatives from 1999 to 2003; in 2003, he was elected to the State Senate, and he served until 2007. That year, he was elected to the US House of Representatives from Connecticut's 5th district, serving as a member of the Democratic Party. In 2013, he took the retired Senator Joe Lieberman's seat in the US Senate, and he supported funding for Obamacare, overhauling the mental health system, implementing universal background checks for gun buyers, opposed American support for Saudi Arabia during its bombing of Yemen, and was given $60,000,000 to house 55 of the 330 homeless veterans living in his state.
Ad blocker interference detected!
Wikia is a free-to-use site that makes money from advertising. We have a modified experience for viewers using ad blockers

Wikia is not accessible if you've made further modifications. Remove the custom ad blocker rule(s) and the page will load as expected.