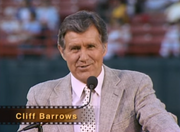 Clifford Burton "Cliff" Barrows
(6 April 1923-15 November 2016) was a music and program director for the
Billy Graham
Evangelistic Association, working from the organization from 1949 onwards.
Biography
Clifford Burton Barrows was born in Ceres, California on 6 April 1923, and he was ordained as a Baptist minister in 1944. He joined Billy Graham at a rally in Asheville, North Carolina in 1945, and he remained with Graham ever since. Barrows worked as Graham's music and program director, and he served as the song and choir leader during Graham's crusade meetings. In 1988, he was inducted into the Gospel Music Hall of Fame, and he died in Charlotte, North Carolina on 15 November 2016 at the age of 93.
Ad blocker interference detected!
Wikia is a free-to-use site that makes money from advertising. We have a modified experience for viewers using ad blockers

Wikia is not accessible if you've made further modifications. Remove the custom ad blocker rule(s) and the page will load as expected.