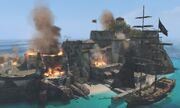 Conttoyor
was a
Spanish Navy
fort that was located on a rocky crag in the
Gulf of Mexico
, just east of the
Mexican
shoreline and the city of
Tulum
. The fort protected an important trade route from the
Yucatan
to the rest of the
Caribbean Sea
, and it protected Mexico from attack from both
Great Britain
and
pirates
. In September 1719, the crew of the 
Jackdaw
, commanded by
Edward Kenway
,
assaulted
the fort and killed its commander,
Agustin de Espinosa
, before converting the fort into a pirate haven with a harbormaster's stall.
Ad blocker interference detected!
Wikia is a free-to-use site that makes money from advertising. We have a modified experience for viewers using ad blockers

Wikia is not accessible if you've made further modifications. Remove the custom ad blocker rule(s) and the page will load as expected.