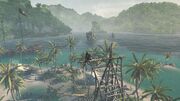 Corozal
is a coastal town in northern
Belize
, located just 9 miles from the border with
Mexico
. Corozal was founded by the
Mayans
as the city of 
Chetumal
, and it would later become a
pirate
haven during the
Golden Age of Piracy
, with Mexican bandits using the town as a base from which they could prey on
Spanish Navy
shipping. The town grew during the 19th century as the result of a refugee crisis in the
Yucatan Peninsula
caused by caste wars, and the town survived a 1955 hurricane, being substantially rebuilt. In 2017, Corozal had a population of 13,502 people.
Ad blocker interference detected!
Wikia is a free-to-use site that makes money from advertising. We have a modified experience for viewers using ad blockers

Wikia is not accessible if you've made further modifications. Remove the custom ad blocker rule(s) and the page will load as expected.