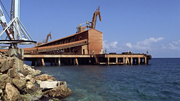 Crab Key
is an island in the
Caribbean Sea
, located just off the coast of Kingston,
Jamaica
. The island was home to a bauxite mine that was later abandoned, and the criminal
Julius No
purchased the island with gold stolen from the
Tong
. No built an underwater nuclear refinery, and he used atomic energy to interfere with
American
rocket launches from Cape Canaveral,
Florida
in an attempt to get revenge for the
Western Bloc
's unwillingness to hire him as a scientist. In 1962,
MI6
agent
James Bond
,
CIA
ally
Quarrel Stewart
, and beachcomber
Honey Ryder
infiltrated the island, with the MI6 and CIA agents seeking to put an end to No and
SPECTRE
's interruption of the launches. Stewart was killed by a flamethrower machine, while Bond and Rider were captured by No's henchmen. They were subsequently brought to the main compound, and they were treated luxuriously before Bond was sent to be tortured. Bond managed to escape from the torture room, steal the uniform of a worker, and cause the reactor to overload before killing No by letting him fall into the boiling water. Bond and Rider managed to escape aboard a small boat as the base exploded, and they were towed away by a
Royal Navy
vessel.
Gallery
Ad blocker interference detected!
Wikia is a free-to-use site that makes money from advertising. We have a modified experience for viewers using ad blockers

Wikia is not accessible if you've made further modifications. Remove the custom ad blocker rule(s) and the page will load as expected.