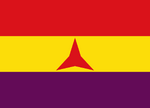 The
Dabrowski Battalion
was a battalion of the
International Brigades
during the
Spanish Civil War
, chiefly composed of
Polish
miners living and working in
Belgium
and
France
. The brigade's men were among the first to arrive in
Spain
upon the start of the civil war in 1936, and the officers and non-commissioned officers were predominantly Polish, even when Spanish troops heavily outnumbered Polish troops in the battalion towards the end of the war. The brigade fought at Madrid and Jarama, and it suffered appalling casualties during the war.
Ad blocker interference detected!
Wikia is a free-to-use site that makes money from advertising. We have a modified experience for viewers using ad blockers

Wikia is not accessible if you've made further modifications. Remove the custom ad blocker rule(s) and the page will load as expected.