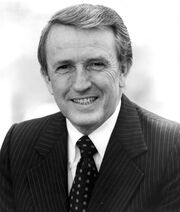 Dale Leon Bumpers
(12 August 1925-1 January 2016) was Governor of
Arkansas
(
D
) from 12 January 1971 to 3 January 1975, succeeding
Winthrop Rockefeller
and preceding
Bob C. Riley
, and a
US
Senator from Arkansas from 3 January 1975 to 3 January 1999, succeeding
William Fulbright
and preceding
Blanche Lincoln
.
Biography
Dale Leon Bumpers was born in Charleston, Franklin County, Arkansas on 12 August 1925. He served in the US Marine Corps from 1943 to 1946 during World War II, and he graduated from law school in 1951, becoming an admirer of Adlai Stevenson II while studying at the University of Illinois in Chicago. From 1952 to 1970, he served as the Charleston city attorney, and he became known for his oratory skills, personal charm, and outsider image. He used these traits to win the governorship in 1971, ushering in a new era of reform-minded governors. In 1974, Bumpers was elected to the US Senate, taking up his seat on 3 January 1975. Bumpers chaired the Senate Committee on Small Business and Entrepreneurship from 1987 to 1995, and he later served on the Senate Committee on Energy and Natural Resources. Bumpers retired in 1999, but he acted as a defense attorney for Bill Clinton during Clinton's impeachment process. He went on to work as the counsel at the Arent Fox LLP law firm in Washington DC, and he died in Little Rock, Arkansas on 1 January 2016 at the age of 90.
Ad blocker interference detected!
Wikia is a free-to-use site that makes money from advertising. We have a modified experience for viewers using ad blockers

Wikia is not accessible if you've made further modifications. Remove the custom ad blocker rule(s) and the page will load as expected.