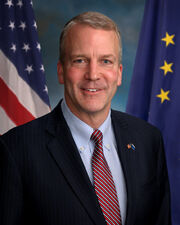 Daniel Scott "Dan" Sullivan 
(13 November 1964-) was
US
Senator from
Alaska
(
R
) from 3 January 2015, succeeding
Mark Begich
.
Biography
Daniel Scott Sullivan was born in Fairview Park, Ohio on 13 November 1964, and he earned degrees from Harvard and Georgetown before interning at the US Court of Appeals for the District of Columbia Circuit. From 1993 to 1997, Sullivan served in the US Marine Corps, entering the reserve in 1997; he rose to the rank of Lieutenant-Colonel, and he was recalled to active duty from 2004 to 2006 and from 2009 to 2013 during the Afghanistan War. From 1997 to 1999, he worked as a law clerk at the Alaska Supreme Court, and he worked as an Anchorage lawyer from 2000 to 2002. From 2009 to 2010, he served as Alaska Attorney General, and he headed its Department of Natural Resources from 2010 to 2013. In September 2013, he resigned to run for Democrat incumbent Mark Begich's US Senate seat, defeating him in a close race. Sullivan opposed abortion, same-sex marriage, Obamacare, amnesty for undocumented immigrants, and Donald Trump's presidential candidacy.
Ad blocker interference detected!
Wikia is a free-to-use site that makes money from advertising. We have a modified experience for viewers using ad blockers

Wikia is not accessible if you've made further modifications. Remove the custom ad blocker rule(s) and the page will load as expected.