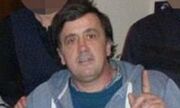 Darren Osborne
 (1970-) was a
British
right-wing extremist who killed one and injured ten in a vehicular rampage near the Finsbury Park
Mosque
in London,
England
on 19 June 2017.
Biography
Darren Osborne was born in Cardiff, Wales in 1970, and he grew up in Weston-super-Mare in Somerset, West Country, England. He later returned to Cardiff and settled in the Pentwyn neighborhood, and he was known for being aggressive and strange. Osborne was once thrown out of a pub for cursing Muslims and threatening violence, and he decided to carry out a "revenge attack" against Muslims in the aftermath of the 2017 Westminster attack, 2017 Manchester Arena bombing, and the June 2017 London attack. At 12:15 AM on 19 June 2017, Osborne used a van rented from Pontyclun, Wales to ram several pedestrians along Seven Sisters Road in the Finsbury Park neighborhood of London, targeting Muslim worshippers as they left Ramadan prayers. He was later restrained by worshippers and beaten until an imam asked for him to be handed over to the police instead of attacked. His attack was one of many hate crimes committed by Islamophobes in the aftermath of the terror wave of mid-2017, as Islamophobic hate crimes increased fivefold after the three Islamic State attacks.
Ad blocker interference detected!
Wikia is a free-to-use site that makes money from advertising. We have a modified experience for viewers using ad blockers

Wikia is not accessible if you've made further modifications. Remove the custom ad blocker rule(s) and the page will load as expected.