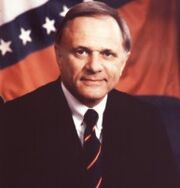 David Hampton Pryor
(29 August 1934-) was Governor of
Arkansas
(
D
) from 14 January 1975 to 3 January 1979, succeeding
Bob C. Riley
and preceding
Joe Purcell
, and a member of the
US Senate
from 3 January 1979 to 3 January 1997, succeeding
Kaneaster Hodges Jr.
and preceding
Tim Hutchinson
. He was also the father of Senator
Mark Pryor
.
Biography
David Hampton Pryor was born in Camden, Ouachita County, Arkansas on 29 August 1934. He became a member of the Arkansas House of Representatives as a Democratic Party member in 1960, serving until 1966; he became a lawyer in 1964. On 8 November 1966, Pryor was elected to the US House of Representatives to represent Arkansas' 4th district, succeeding Oren Harris; he served until 3 January 1973, and Ray Thornton succeeded him. Pryor decided not to run for re-election to take part in a failed run for the US Senate, but he managed to win the 1974 gubernatorial election. In 1978, he won the Senate seat that he had coveted, and he served in that position until 1997, when he retired. From 2008 to 2009, he briefly served as Chairman of the Democratic Party of Arkansas after Bill Gwatney's murder.
Ad blocker interference detected!
Wikia is a free-to-use site that makes money from advertising. We have a modified experience for viewers using ad blockers

Wikia is not accessible if you've made further modifications. Remove the custom ad blocker rule(s) and the page will load as expected.