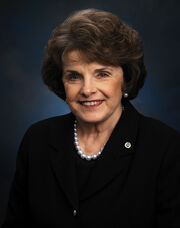 Dianne Goldman Berman Feinstein
(22 June 1933-) was a
US
Senator from
California
(
D
) from 4 November 1992, succeeding
John F. Seymour
. Feinstein previously served as Mayor of
San Francisco
from 4 December 1978 to 8 January 1988, succeeding
George Moscone
and preceding
Art Agnos
.
Biography
Dianne Emiel Goldman was born in San Francisco, California on 22 June 1933 to a family of Russian and Polish Jews, and she graduated from Stanford University in 1955 with a bachelor's degree in history. In the 1960s, she worked in city government, and she was elected to the Board of Supervisors in 1970 as a member of the Democratic Party. In 1978, she succeeded George Moscone as mayor after Dan White killed both Moscone and Harvey Milk in a double homicide at the town hall, and she renovated the city's cable car system and hosted the 1984 Democratic National Convention. In 1992, she was elected to the US Senate, defeating John F. Seymour with 54.29% of the vote. In 1994, she authored a federal ban on assault weapons, which expired in 2004. In 2013, she introduced a new assault weapons bill in response to the Sandy Hook elementary school massacre, but the bill failed to pass. From 2009 to 2015, she worked on the Select Committee on Intelligence, and she became a member of the Senate Judiciary Committee in 2017.
Ad blocker interference detected!
Wikia is a free-to-use site that makes money from advertising. We have a modified experience for viewers using ad blockers

Wikia is not accessible if you've made further modifications. Remove the custom ad blocker rule(s) and the page will load as expected.