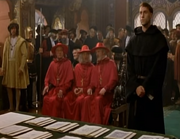 The 
Diet of Worms
was an
Imperial Diet
of the
Holy Roman Empire
held in the Imperial city of Worms (in what is now the
Rhineland-Palatinate
state of western
Germany
) from 28 January to 26 May 1521. At the diet,
Protestant
leader
Martin Luther
refused to recant his 95 theses, and he famously said, "Here I stand, I can do no other...God help me." Emperor
Charles V of Germany
responded by outlawing
Lutheranism
, and Luther was spirited away to Wartburg from his prison by
Frederick III, Elector of Saxony
, preventing the Emperor from punishing him.
Ad blocker interference detected!
Wikia is a free-to-use site that makes money from advertising. We have a modified experience for viewers using ad blockers

Wikia is not accessible if you've made further modifications. Remove the custom ad blocker rule(s) and the page will load as expected.