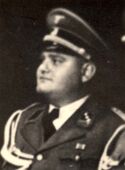 Dieter Wisliceny
(13 January 1911-4 May 1948) was an
SS
Hauptsturmfuhrer
during the
Holocaust
and 
World War II
.
Biography
Dieter Wisliceny was born in Regulowken, East Prussia, German Empire (now Mozdzany, Gizycko County, Poland) on 13 January 1911. He joined the Nazi Party in 1933 and the SS in 1934, and he rose to the rank of Hauptsturmfuhrer (Captain) in 1940. During the Holocaust, Wisliceny was tasked with the ghettoization and liqudation of Jewish communities in Greece, Hungary, and Slovakia, and he reintroduced the yellow star to occupied countries and was involved in the deportation of Hungary's Jews in 1944. Wisliceny testified against Adolf Eichmann during the Nuremberg Trials in 1946, and he was later extradited to Czechoslovakia, where he was hanged for war crimes in 1948.
Ad blocker interference detected!
Wikia is a free-to-use site that makes money from advertising. We have a modified experience for viewers using ad blockers

Wikia is not accessible if you've made further modifications. Remove the custom ad blocker rule(s) and the page will load as expected.