Donald Trump
(14 June 1946-) was an
American
real estate magnate and businessman who served as President of the
United States
(
R
) from 20 January 2017, succeeding
Barack Obama
. Trump was previously a member of the
US Democratic Party
, the
Reform Party USA
, and an independent, switching political allegiances six times before becoming a Republican for the 2016 election.
Trump, previously known for his hotels in New York, his casinos in New Jersey, his golf courses in Florida, his steaks, and his failed "Trump University" online course, ran on an anti-immigration and right-wing populist platform, claiming that he was going to "make America great again" and represent the middle-class in politics. However, Trump became one of the most controversial presidential candidates in American history, as he made discriminatory remarks about Muslims, Mexicans, African-Americans, women, disabled people, and veterans, among other groups. His nomination as the Republican Party's candidate divided the Republican Party into the mainstream and establishment conservative faction and the far-right, pro-Trump faction, nicknamed "a basket of deplorables" by his rival, US Democratic Party nominee Hillary Clinton. However, he managed to win the election with 306 electoral votes (despite losing the popular vote), entering Washington DC with a Republican-controlled House and Senate.
Biography
Business career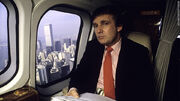 Donald Trump was born on 14 June 1946 in Queens,
New York City
,
New York
. He was the son of real estate developer
Fred Trump
, and in 1968 he joined his father's company, Elizabeth Trump & Son. In 1971 he gained control over the company and renamed it "The Trump Organization" and became a major figure in real estate, building Trump Tower in New York City from 1979 to 1983. His real estate business earned him a net worth of $4,500,000,000 by 2015, and he became known as a major celebrity due to his various television shows such as 
The Apprentice
. However, his business career was filled with controversies such as his refusal to rent apartments to
African-Americans
, his dealings with
Russian
oligarchs loyal to
Vladimir Putin
, his refusal to pay taxes for sixteen years (which he would later claim was being "smart"), and his multiple filings for bankruptcy, destroying Atlantic City's casino scene and leading to the unemployment of thousands of Americans. Trump was married to model Ivana Zelnickova from 1977 to 1992, Marla Maples from 1993 to 1999, and Melania Knauss from 2005, having several children; Trump lived a luxurious lifestyle at Trump Tower in New York. 
Presidential campaign
Controversial statements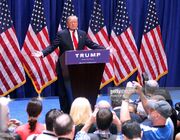 Trump was supported by millions of people when he announced that he would run for President of the
United States
on 16 June 2015, choosing the
US Republican Party
. Trump was a far-right candidate, known for his derogatory comments against fellow Republicans
Rand Paul
and
Jeb Bush
, Democratic candidate
Carly Fiorina
, celebrities Rosie O'Donnell and Megyn Kelly, and against
Mexican-Americans
(particularly illegal immigrants) and veterans (against former candidate
John McCain
). He was the subject of outrage in the media, and his controversial comments ironically worked in his favor, as his personality was followed by several far-right and xenophobic Americans. In November 2015 he made anti-
Muslim
comments when he insulted
Syrian
refugees, when he stated that he would enact a policy of forcing Muslims to identify their religion, and that he would block Muslims from entering the USA. His plan to force Muslims to identify themselves as such was reminiscent of
Adolf Hitler
's policy of forcing
Jews
to wear golden
Jude
stars, and many compared him to Hitler. He was also accused of following
neo-Fascism
, followings its beliefs in
anti-immigration
,
nativism
, and
nationalism
. Nations such as the
United Kingdom
and
France
criticized him, and the Mayor of St. Petersburg, Florida barred him from the city due to his racist comments. Mayors in New York City, Philadelphia, and other US cities stated that they would  have blocked him from entering their cities if they had the power, and many condemned his actions. When 35% of Republicans backed Trump, 66% of Americans expressed concern over this.
Protests and unrest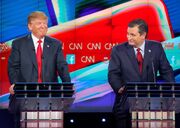 Trump later entered a rivalry with his former ally 
Ted Cruz
after Cruz insulted "New York values", and Cruz beat him in the February 2016
Iowa
caucus. On 6 February 2016, Trump was booed by the crowd while in an argument with
Jeb Bush
over his Atlantic City activities, with the crowd booing when he spoke condescendingly to Bush, and Trump went so far as to tell the crowd to be quiet while he talked. The crowd's booing of Trump was rare, and it showed that he was losing his invincibility. In following debates, Trump took heat from both Cruz and Rubio, the latter of whom was adopting Trump-like strategies to insult his opponents, but he struck back with a vengeance. On
Super Tuesday
on 1 March 2016, Trump won almost all of the Republican primaries and caucuses, and it was almost certain that he would become the Republican nominee for President. However, on 11 March 2016 his planned attendance of a rally at the UIC Pavilion in Chicago led to protests that saw several fistfights between groups of Trump supporters, anti-Trump protesters, and Chicago police, and
Ted Cruz
and
Marco Rubio
used the
2016 Chicago protest
to discredit Trump. In addition, supporter
John McGraw
"sucker punched"
African-American
Rakeem Jones
at a
North Carolina
Trump rally, and Trump told his supporters that he would love if they could punch protesters, telling them that he would pay for their legal fees if needed.
Accepting the nomination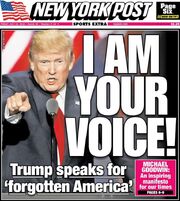 On 25 April 2016, as Trump won more delegates and neared the necessary delegate count, Kasich and Cruz announced that they would ally against Trump, helping each other in the primaries; Trump had alienated the Republican Party's leadership by arguing with committee chairman
Reince Priebus
. However, Trump would win all of the required delegates for his party's nomination on 26 May 2016, and he would later receive the support of leading American politicians such as
Rudy Giuliani
,
Chris Christie
, and even Rubio himself. In early May, the other candidates dropped out, and Trump's achievement of his delegate count allowed for him to be named the presumptive nominee of the party. Trump continually insulted Clinton and made statements about world events and terrorist attacks, and he gave fiery speeches. At his speech at the Republican National Convention on the night of 21 June 2016, he told the American people, "I am your voice!". He also attempted to win over supporters of
Bernie Sanders
by noting that
Hillary Clinton
had the primary elections rigged, and Trump used his typical tactic of fearmongering to sway people to support him in the election, once more insulting
Muslims
, illegal immigrants, and the "disastrous" presidency of
Barack Obama
.
Sexual assault revelations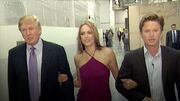 Later in 2016, Trump garnered more controversy for insulting the family of a
Muslim
soldier who had been killed during the
Iraq War
, for asking his supporters to watch an alleged "sex tape" featuring model Alicia Machado, and for lewd comments made in a 2005 interview with 
Access Hollywood
journalist Billy Bush that stated that he could molest women and get away with it because he was rich. Trump apologized for his statements, but many Republican leaders (such as
Kelly Ayotte
,
Carly Fiorina
,
Mike Crapo
,
Paul Ryan
, and
John McCain
) withdrew their support from him, and his own running mate
Mike Pence
cancelled campaign events and refused to condone Trump's words. In October, after the leak became public, many women came forwards with allegations that Trump had molested them, including a young teen beauty queen.
Presidential election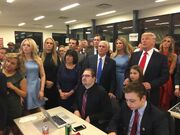 Despite having to deal with several controversies and allegations, Trump managed to win the 8 November 2016 presidential election with a startling upset, winning 306 votes despite losing the popular vote 47.5% to Clinton's 47.6%. Trump became the oldest person to be elected President, and several international leaders reacted to his election in different ways; in
Germany
,
Ireland
, and
Cuba
, the governments were critical of the election, while
Israel
,
Russia
, and
China
praised his election. Hundreds of thousands of peoples protested his election, and it was later revealed that Clinton had won over 2,000,000 more votes than Trump. Racist incidents spiked as Trump supporters vandalized the Adam Yauch Memorial Park in Brooklyn, Canarsie College in New York, and other public buildings with swastikas and praise for Trump, and Trump rode upon a wave of support from white nationalists across the country.
Presidential transition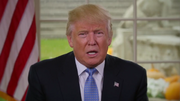 After he was elected President of the United States, Trump assembled a transition team of his supporters, and he began nominating Republicans to cabinet positions. Trump controversially chose the racist radio host
Steve Bannon
as his adviser, chose RNC chairman
Reince Priebus
as his White House Chief-of-Staff, appointed the
Jim Crow
-minded
Alabama
senator
Jeff Sessions
as Attorney-General, pro-life teacher and
Michigan Republican Party
chairwoman
Betsy DeVos
as Secretary of Education,
South Carolina
governor and former critic
Nikki Haley
as ambassador to the
United Nations
, General
Michael Flynn
as National Security adviser, and considered either
Rudy Giuliani
or
Mitt Romney
as Secretary of State. Trump's decision to choose Bannon as his adviser led to the
Ku Klux Klan
Grand Wizard
David Duke
and the
National Policy Institute
president
Richard B. Spencer
both praising him for letting their
far-right
views be heard.
"First 100 Days" plan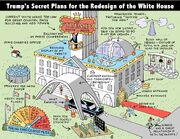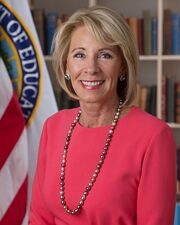 On 21 November 2016, he revealed his policy plans for the first 100 days in office: he wanted "patriots" to be brought into the government to help in "Making America Great Again"; wanted to produce steel or cars and to cure disease; wanted to create wealth and jobs for American workers; asked his transition team to make a list of executive actions that he could take on day one to "restore our laws and bring back our jobs"; to issue a notification of intent to withdraw from the
Trans-Pacific Partnership
and negotiate "fair, bilateral trade deals that bring jobs and industry back to American shores"; to cancel "job-killing restrictions" on the production of shale energy and "clean coal" to create "many millions of more jobs"; to formulate a rule stating that every new regulation would eliminate two old ones; that he would ask the Department of Defense and the Joint Chiefs of Staff to develop a comprehensive plan to protect the USA from cyberattacks and all other forms of attacks; to direct the Department of Labor to investigate "the abuses of all visa programs that undercut the American workers"; to "drain the swamp" by imposing a five-year ban on elected officials becoming lobbyists after they leave the administration and a lifetime ban on executive officials "lobbying on behalf of a foreign government"; he stated that they were just a few steps that he would take to "reform Washington and rebuild our middle class."
Presidency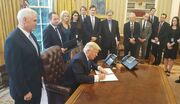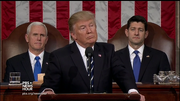 Donald Trump's 20 January 2017 inauguration occurred on a rainy day, and it was one of the smallest inauguration crowds in recent memory; Trump's spokesman
Sean Spicer
claimed that it was one of the largest, a provable falsehood, and Trump spokeswoman
Kellyanne Conway
claimed that Spicer's assertation was an "alternative fact", not a "falsehood", in an interview with 
Meet the Press
reporter Chuck Todd. Trump would immediately begin to issue a series of executive orders, including instituting a gag rule for the
Environmental Protection Agency
(forcing the EPA to have a media blackout), issued a memorandum to withdraw from the
Trans-Pacific Partnership
, banned US aid to foreign organizations that performed or discussed abortions, forced through the construction of the Keystone XL and Dakota Access pipelines through
Native American
lands in
North Dakota
, opened an investigation into voter fraud during the 2016 presidential election, and signed an executive order to build a wall on the US-
Mexico
border. On 21 January, millions of women (and a large number of men) across the United States marched in solidarity to protest Trump's anti-female legislation, as they wanted to ensure that their rights were not taken away under the Trump administration. On 27 January, Trump signed
Executive Order 13769
, which banned
Muslims
from
Syria
,
Iraq
,
Iran
,
Yemen
,
Somalia
,
Sudan
, and
Libya
from entering the USA, leading to massive protests at airports across the country. He fired acting Attorney-General
Sally Yates
after she refused to enforce his ban, but his reign was far from challenged.