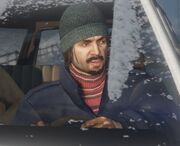 Eddie Sulzer
(died 2004) was an
American
criminal from
Bismarck
,
North Dakota
. He was killed in a failed bank robbery in 2004.
Biography
Eddie Sulzer was born in Bismarck, North Dakota, and he was hired as a getaway driver for Michael Townley and Trevor Philips' heist crew in 2004. Sulzer drove a Chevrolet Suburban SUV, and he picked up Townley, Philips, and Brad Snider from the bank, only to find himself pursued by several North Dakota Highway Patrol cars. Sulzer was shot in the head during the car chase, and Townley took the wheel of the car, throwing Sulzer's body onto the snow-covered road.
Ad blocker interference detected!
Wikia is a free-to-use site that makes money from advertising. We have a modified experience for viewers using ad blockers

Wikia is not accessible if you've made further modifications. Remove the custom ad blocker rule(s) and the page will load as expected.