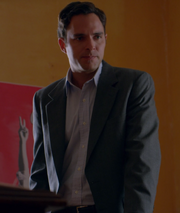 Eduardo Sandoval
was the head of security for
Cesar Gaviria
during his 1989 presidential campaign and later the Vice-Minister of Justice of
Colombia
. Sandoval worked with
DEA
agent
Steve Murphy
to guarantee his friend's safety, as Gaviria's mentor
Luis Carlos Galan
had been assassinated by
Medellin Cartel
boss
Pablo Escobar
for his views.
Biography
Eduardo Sandoval was a close friend of Cesar Gaviria, a politician from the Colombian Liberal Party, and Sandoval worked as his campaign adviser and his head of security during his 1989 presidential campaign. Sandoval worked with him on the campaign trail, and he was also forced to work with DEA agent Steve Murphy to guarantee Gaviria's security, as he was a target for Pablo Escobar and the Medellin Cartel. Sandoval did not trust the United States, but the Americans wound up saving Gaviria's life from Avianca Flight 203 in late 1989.
When Gaviria took office as President of
Colombia
in 1990, Sandoval became the Vice-Minister of Justice, and he was responsible for assisting the Ministry of Justice in handling the affairs of criminal organizations such as the Medellin and
Cali Cartels
. On the night of 22 July 1992, he was sent to negotiate with Escobar at his La Catedral "prison" during the
La Catedral siege
, and Sandoval informed him that he was to be moved to a conventional prison while La Catedral was renovated. Sandoval believed that he had come to an agreement with Escobar to meet with President Gaviria, but he was instead taken hostage by the Medellin Cartel and forced to stay at the prison; he was told that he could contact Gaviria via telephone. Sandoval had to be rescued by special forces after being sent to communicate with Gaviria on Escobar's behalf, and he was successfully rescued; Escobar had given orders for his men not to harm Sandoval, hoping that the
Colombian Army
would kill him in an accidental attack, similar to the circumstances of journalist
Diana Turbay
's death.