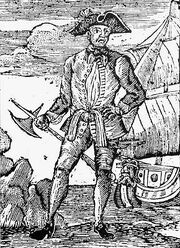 Edward Seegar
(1685-1721), better known as
Edward England
, was a famous
Irish
pirate
who operated off
West Africa
and in the
Indian Ocean
during the
Golden Age of Piracy
. During his career, he amassed a wealth of 10,000,000 
reales
.
Biography
Edward Seegar was born in Ireland in 1685 to a Catholic Irish family, and he changed his name to "Edward England" before heading to Jamaica to become a privateer during the War of the Spanish Succession. He was pressed into the pirate Christopher Winter's crew after being captured, and he was taken to the pirate base on Nassau in the Bahamas. England took part in Henry Jennings' assault on Palma de Ayz, Florida, stealing a large prize of gold and silver. By March 1718, he had become Charles Vane's quartermaster, and he was released from British captivity alongside Vane when the British instructed them to convince the other pirates of Nassau to accept the King's pardon.
In mid-1718, England was given command of his own ship, and he sailed for West Africa as Woodes Rogers and a Royal Navy fleet arrived in the Caribbean Sea to destroy the Republic of Pirates. While heading for Africa, England captured the Bristol ship Cadogan, and his crew executed Captain Skinner after realizing that he was the captain who infamously did not pay his men for their work. England spared a crew member on the Cadogan, Howell Davis, and he gave him command of the ship; Davis would go on to become a pirate and the mentor of Bartholomew Roberts, the most successful pirate of the Golden Age of Piracy. England later captured the frigate Pearl, renaming it the Royal James and heading to Africa in search of plunder in the spring of 1719. He plundered ten ships on the Gambia River, and he rounded the Cape of Good Hope in 1720 and began pirating in the Indian Ocean. He seized the bountiful East Indiaman Cassandra off the Comoros, but he was later marooned on Mauritius by the captain of the Cassandra, James Macrae. He managed to make his way to Madagascar, where he died of tropical disease in 1721.
Ad blocker interference detected!
Wikia is a free-to-use site that makes money from advertising. We have a modified experience for viewers using ad blockers

Wikia is not accessible if you've made further modifications. Remove the custom ad blocker rule(s) and the page will load as expected.