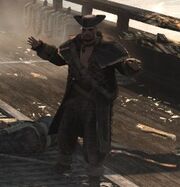 Ethan Peter
(1687-) was a
pirate hunter
and the captain of the brig 
Calypso
during the
Golden Age of Piracy
.
Biography
Ethan Peter was born in Cornwall, England in 1687, and he became a pirate during the Golden Age of Piracy, operating in the Caribbean Sea. In 1718, he took the king's pardon and decided to become a pirate hunter, captaining the brig Calypso and hunting down his former allies. In September 1719, his ship duelled the pirate ship Jackdaw off Hanover Parish, Jamaica, and Peter was forced to surrender in the ensuing battle. 
Ad blocker interference detected!
Wikia is a free-to-use site that makes money from advertising. We have a modified experience for viewers using ad blockers

Wikia is not accessible if you've made further modifications. Remove the custom ad blocker rule(s) and the page will load as expected.