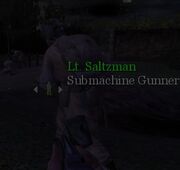 Eugene John Saltzman
(1912-6 June 1944) was an
American
soldier during
World War II
.
Biography
Eugene John Saltzman was born in New York City, New York in 1912 to a Jewish-American family, and he enlisted in the US Army in 1933. Saltzman rose to the rank of Lieutenant and later transferred to the US 506th Infantry Regiment, an airborne regiment that dropped over Normandy in 1944 during Operation Overlord. Saltzman fought at the Battle of Sainte-Mere-Eglise, where he was killed by German machine-gun fire alongside several other regimental lieutenants.
Ad blocker interference detected!
Wikia is a free-to-use site that makes money from advertising. We have a modified experience for viewers using ad blockers

Wikia is not accessible if you've made further modifications. Remove the custom ad blocker rule(s) and the page will load as expected.