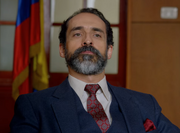 Fernando Duque
(22 July 1952-1993) was a
Colombian
politician and lawyer who served in the Chamber of Representatives from 1986 to 1990. Duque was known for his partnership with the drug trafficker
Pablo Escobar
, representing him as his connection in politics and his lawyer. He was murdered by along with his son by
Los Pepes
in early 1993, and his ex-wife and his mother were killed soon after his death.
Biography
Fernando Duque was born on 22 July 1952, and he studied industrial economics at the University of Medellin. He was a member of the Colombian Liberal Party since his youth, and he became a member of the Departamental Assembly of Antioquia in 1982 after being a successful lawyer. It was in the early 1980s that Duque was able to meet Pablo Escobar, who was introduced to him by the news anchor Valeria Velez. Escobar paid Duque $300,000 to get him a position in the Chamber of Representatives, and the two of them agreed to a political partnership. From 1986 to 1990, he served as a representative in the Chamber of Representatives, and he agreed to become Escobar's lawyer. Duque was used as an intermediary between President Cesar Gaviria and Escobar, and he convinced Attorney-General Gustavo de Greiff to help Escobar due to their common hatred of American influence in Colombia.
Downfall
Duque became a target for the enemies of Escobar because of his status as the only man connecting Escobar to politics, and
Los Pepes
sought to assassinate him. In early 1993, Duque narrowly escaped a drive-by assassination attempt when gunmen in a neighboring car fired Uzis at his car, killing a bystander. Duque decided to take his son from school without his ex-wife's consent and stole her car, and they checked into a hotel as Duque planned to flee the country. One day,
DEA
agent
Javier Pena
decided to help Duque in fleeing to the
United States
in exchange for his help in taking down Escobar, betraying his former allies in Los Pepes. Los Pepes tracked Duque and his son down and killed the both of them, shoving their bodies into his ex-wife's car in front of the hotel. Not long after his death, his wife was shot in the head, and his innocent mother was stabbed to death.