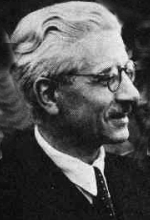 Ferruccio Parri
(19 January 1890-8 December 1981) was Prime Minister of
Italy
from 21 June to 8 December 1945, succeeding
Ivanoe Bonomi
and preceding
Alcide De Gasperi
.
Biography
Ferruccio Parri was born in Pinerolo, Piedmont, Italy on 19 January 1890, and he was wounded four times while serving in the Royal Italian Army during World War I. Parri became involved with the Giustizia e Liberta anti-fascist resistance movement after the rise of the National Fascist Party, and he was imprisoned several times. During World War II, Parri joined the Italian Resistance, and he served as president of the National Liberation Committee. In January 1945, he was arrested in Milan, but he was released in Lugano, Switzerland in March as evidence of good faith by the Germans during their peace negotiations with the Allied Powers in Italy. At the end of the war, Parri was chosen to lead a coalition government of several anti-fascist parties. As a middle-of-the-road old man who was affiliated with the liberal Action Party of Italy, Parri was the perfect compromise candidate, but he left office when the Italian Liberal Party left his government. From 1947 to 1953, he was affiliated with the Italian Republican Party, and he served in the Italian Constituent Assembly and the Italian Senate. In 1957, he joined the Radical Party of Italy, and he became a Senator for Life in 1963. He died in Rome in 1981 at the age of 91.
Ad blocker interference detected!
Wikia is a free-to-use site that makes money from advertising. We have a modified experience for viewers using ad blockers

Wikia is not accessible if you've made further modifications. Remove the custom ad blocker rule(s) and the page will load as expected.