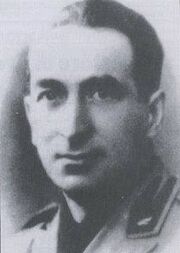 Ferruccio Spadini
(12 August 1895-13 February 1946) was a general of the
Italian Social Republic
who commanded the garrison of Breno during
World War II
.
Biography
Ferruccio Spadini was born in Mantua, Italy on 12 August 1895 into a bourgeois family. He volunteered in the Royal Italian Army during World War I, and he befriended the famed nationalist Gabriele D'Annunzio. In 1926, while working as a teacher, he joined the National Fascist Party, and he returned to the military in 1929. Spadini served in the Second Italo-Ethiopian War in 1935 and in World War II, and he was given command of the garrison of Breno under the Italian Social Republic. He was responsible for murdering several captured Italian Resistance partisans, and he was captured and tortured at the war's end in 1945. In February 1946, Spadini was convicted of war crimes and executed by firing squad.
Ad blocker interference detected!
Wikia is a free-to-use site that makes money from advertising. We have a modified experience for viewers using ad blockers

Wikia is not accessible if you've made further modifications. Remove the custom ad blocker rule(s) and the page will load as expected.